After a week long of fun tease..
Joe Ledbetter
and
The Loyal Subjects
finally revealed the full series of
Chaos Minis
.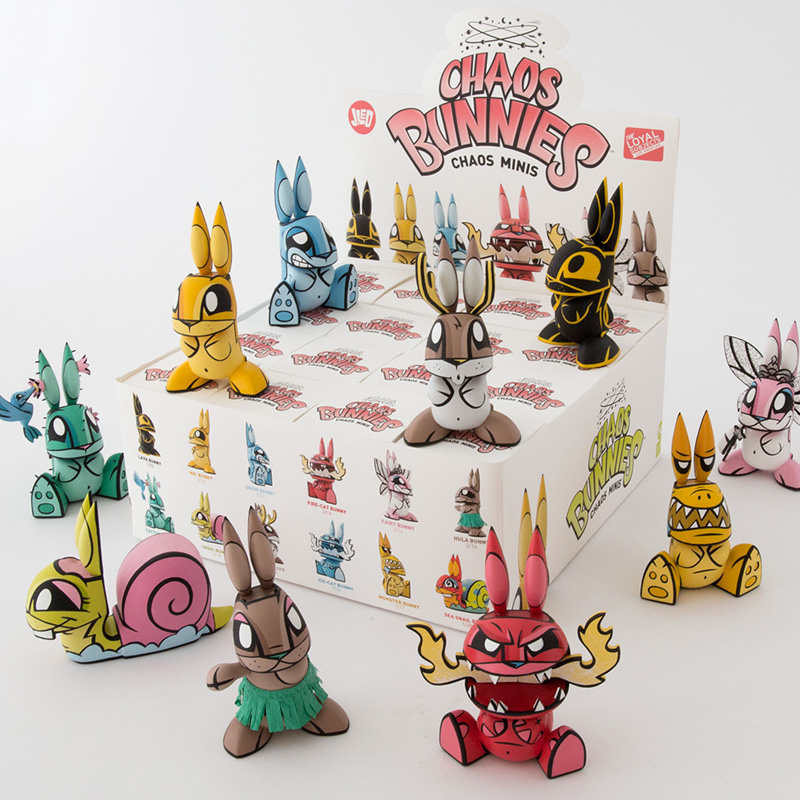 "What an enormous project – I have been waiting almost 10 years to finally release this mini-figure series. It's been tremendously complicated undertaking from start to finish. From the initial sketching and planning, to the turnarounds, paint samples, vector artwork, factory corrections, packaging design, photography, promotion, and everything else in between. I'm super proud of the results, and hope collectors enjoy these new mini-figures as much as I love making them." -Jled
Blind boxed, each mini figure stands about 4-inches tall.
Featuring all new figures such as Cactus Bunny, Fire-Cat Bunny, Snail Bunny, Fairy Bunny, Jackalope, and all-time favorites like Mr. Bunny, Snow Bunny and Lava Bunny.
12 figures to collect (8 Regular Characters plus 4 Chase figures)
About The Chaos Bunnies
The Chaos Bunnies are a collection of characters and vinyl figures created and designed by Joe Ledbetter (aka J.Led). Under many iterations and names over the years, the Chaos Bunnies have been prevalent characters in J.Led's paintings, prints, and toy designs since 2004. With as many variations of his signature bunny character as can be imagined, the possibilities are truly endless. The Chaos Bunnies play with ideas of over-population, individuality, alienation, enlightenment, and unadulterated joy. Not only is this project a labor of love, but a carefully designed art piece, a celebration of collectables, and a love letter to favorite childhood action figures. These bunnies might be super cute, but don't forget they're still wild animals from a distant planet.
Available now for Pre-Order at
theloyalsubjects.com